If you drive by
Dr. Volt's Comic Connection
, you will see this image hanging in their window. No joke. When the store was being moved around or otherwise decorated as a comics emporium, I was allowed to do an original image that has been hanging in the window for several years.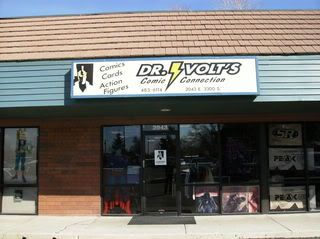 This image comes courtesy of the
Dr. Volt's website
.
You can see her hanging in the window in the left-hand side of the picture.
I didn't want to draw another person's character, so I came up with my own. I think she embodies the spirit of comics, though; that sense of being close to our world, but there is something magical and mysterious about her that sets her apart from the real world.
Since I have it on file, here is the original line art, as well.
Thanks for checking out the old stuff! Hopefully before long I can get back to posting some new things!